ETH 200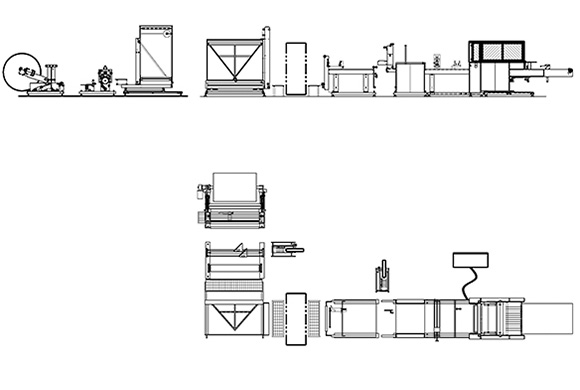 Bagmaking machine specifically designed for producing all different kinds of security bags with twin/skirt or wide sealing.
The machine can work one or multi-lines and many different kind of materials, such as LDPE – LLDPE – HDPE – COEX – etc.
Advanced technological innovations have been achieved in all of our welding machines dedicated to the production of security bags.
These bags are used for the safe movement of cash, confidential documents and valuables such as evidence for Police Services, examination papers, diamonds and precious metals, foreign exchange, election papers, in ditty-free shops to guarantee a safe standard in taking LAG's (liquid, aerosol and gels) into the airplane, and in other sectors where protection against manipulation of the contents is needed. These specific uses of bags required the development of lateral welding techniques such as "vacuum pack" with widths up to 15 mm on each side of the bag, besides the placing of serial numbers, bar codes, self adhesive labels and other systems of identification and tracking. This kind of bags often needs many simultaneous operations on the single item which makes it difficult for the operator to work.
Nowadays SCAE offers an all inclusive welding machines to produce any kind of safe bags, with tamper-evident seal simply pasted or welded to the bag, a twin/skirt and wide seal up to 15 mm with straight or even shaped welding profiles to make it difficult to manipulate the bag, punched out handle. SCAE also offers a set of accessories which may be added to the machine, such as serial number/bar code ink and/or thermal transfer coders, RFID tags, hot-melt unit with gear pump, a modern scanner and quality control system. This latter system can automatically verify if the different bar codes printed on the bag match (sometimes there are up to four) and it automatically prints the labels to attach on the boxes, with all the information about the codes of the serial numbers of the bags enclosed and of the missing ones, due to production waste. All the operations which are nowadays fulfilled by the operator become therefore automatic and this allows an increase in production and in terms of quality control as an answer to strict requirements of this particular market section.
•Twin/skirt seal bar with sealing width from 2 up to 6 mm and distance between the two welds from 5 up to 14 mm.
•Wide sealing from 5 up to 30 mm.
•Starting from a self-adhesive security tamper evident tape : this tape has to be opened, overlapped and than married to the bag.
•Starting from a security tamper evident film which has to be laminated with hot-melt and married to a siliconized film and to the bag (if the security tamper evident is in HDPE then could be sealed on the bag).
•Starting from a security tamper evident film in HDPE which is going to be sealed on the edge of the bag and a siliconized film which is laminated with hot-melt and placed on the opposite site of the security film.
•Handle hole punching unit with "C " shape, oval shape and scrap removal, euro hole, hot blade, teeth cut or die—cut.
•Handle oval shape sealing.
•Pre-sealing for bottom gusset (pneumatic or servo driven).
•Longitudinal sealing (hot air or drum sealing by contact).
•Central driven unwinder for resealable or permanent adhesive tape.
•Single or double transversal teat-off perforation for receipts.
•Transversal tear-off perforation for double bags.
•Attachments for body-pocket (inside or outside of the bag).
•Lip folders.
•Longitudinal intermittent cut.
•Attachments for intermittent or continuous hot-melt lamination, serial number and bar code printing with ink-jet or thermo transfer, labeler, RFID, etc.
•Ventilation holes.
280 c./min (variable, depending on the model)