ETH 500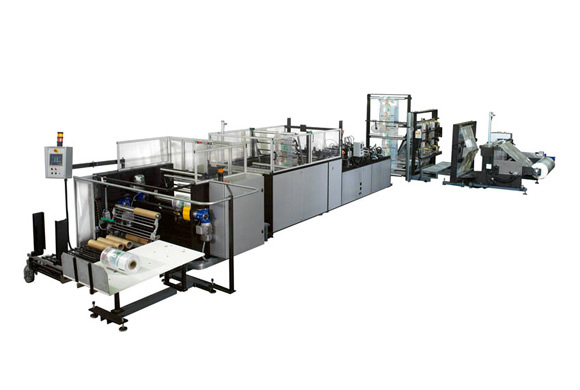 Bagmaking specifically designed for producing sealed and perforated bags rewinded on carton and plastic cores. The machine can work width many different kind of materials as LDPE – LLDPE – HDPE – COEX – REGENERATED – MATERBI, etc.
High speed bagmaking machine for producing bags on roll for automatic filling machines to package fruit/vegetables (apple, carrots, potatoes, etc.) with twin/skirt seal. Bottom seal bar is also available. The machine can be equipped with semi-automatic or full automatic rewinders.
•Handle hole punching unit with "C" shape, oval shape, euro hole (hot blade, teeth cut or die-cut).
•Pre-sealing for bottom gusset (pneumatic or servo driven).
•Lip folders.
•Longitudinal sealing (hot air or drum sealing by contact).
•Transversal tear-off perforation for bottom sealed bags.
•Angle sealer (pneumatic or servo driven).
•Full automatic turret rewinder, model "AUTOROLL" allows the automatic no-stop change of the produced roll, with tubular core diameter from 30 to 75 mm and a max rewinding diameter of  450 mm.
•Semi-automatic rewinding unit, model "RlB.2", with two rewinding axles, for core diameter 75 mm and a max rewinding diameter of 450 mm; alternatively it is available a rewinding unit at one axle, model "RlB.1", with manual change of roll and a max rewinding diameter of 500 mm.
880 – 1100 mm (the LEM model is available in widths up to 2.000 mm)
3000 mm (10000 on request)
280 c./min (variable, depending on the model)